Doctors & Staff
Meet the experienced and friendly doctors and staff who make Wray Vision Source the leading provider of vision care products and services in Wray.
Randy L. Hertneky, O.D.
Dr. Hertneky is a lifelong resident of Eastern Colorado, spending his early years in Burlington, Colorado. Dr. Hertneky graduated from the University of Colorado in Boulder with Bachelor of Arts degree in Molecular Cellular and Developmental Biology in 1977. He graduated from Southern California College of Optometry with a Doctor of Optometry degree in 1981. Dr. Hertneky has been serving Yuma County since 1982. His goal is to provide the widest range of eye and vision services locally for Yuma County residents. He sees Medicare, Medicaid and private pay patients. He accepts most vision care plans.
In addition to providing general eye care, Dr. Hertneky manages or co-manages all ocular pathology, such as cataracts, glaucoma, macular degeneration, eye infections, eye injuries, eyelid problems, and dry eyes. Dr. Hertneky participates with many laser vision correction centers so that preoperative and postoperative care can be done locally. Dr. Hertneky is a member of the Colorado Optometric Glaucoma Society and participates in the Optometric Retinal Society and Optometric Ocular Surface meetings.
---
Brett Keller, O.D.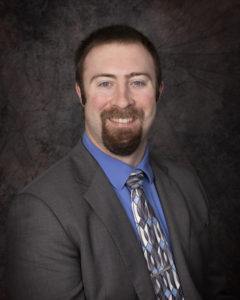 Dr. Keller joined our practice in December 2020 and is a Sharon Springs, KS native. He earned his undergraduate degree at Kansas State University in Life Sciences. He then went on to St. Louis to complete his Doctor of Optometry degree in 2016 at the University of Missouri-St. Louis. During his time in St. Louis, he was a member of Beta Sigma Kappa, an international optometric honors fraternity. Dr. Keller completed externships at Robert Dole VA Hospital in Wichita, KS and the Chickasaw Nation Medical Center in Ada, OK where he received additional training in surgical post­operative care and eye diseases such as glaucoma, macular degeneration, and diabetic eye diseases.
Before joining our practice, Dr. Keller worked in Manhattan for four years, providing full-scope optometry services, including ocular disease management for people of all ages, contact lens fitting, and pediatrics.
When he is not in the office, you may run into Dr. Keller and his family enjoying the great outdoors. Besides spending time with his wife, Alaina, one and a half-year-old son and one-month-old daughter, Dr. Keller also enjoys going to church on a regular basis, fixing things around the house, gardening, the occasional pick-up games of hoops, throwing the pigskin, and rooting for the Nebraska Cornhuskers through thick and thin.
Dr. Keller says he enjoys practicing optometry because, "It is always evolving; there is always something new to try, to learn, to practice. But, helping a child see clearly for the first time is an awesome perk!"
---
Wray Staff
Chris, Denise and Jessica